so you wanna dress like zoë kravitz...
me too. taking notes on tonal dressing.
🕊️ Ceasefire Now in Gaza 🕊️
---
Zoë Kravitz is an excellent style reference for tonal dressing. There are varying definitions of tonal dressing out there, but I like to think of it as color-blocking's mature older sister. Clothes in different shades of the same or similar color family, erring on the side of deeper hues. A successful tonal outfit has the shadowy quality of a low exposure photo.
I saved a few street style photos of Zoë in these toffee trousers, and was impressed with how she re-wore them for two seemingly different climates.
The outfit with the white tank and oversize red button down feels appropriate for late summer early fall. The palette is very warm and fiery. Notice how the red pouch bag matches the red shirt.
Then she switches it up with a long gray turtleneck sweater and black?navy? trench coat for a fall/winter outfit. Here, the toffee trousers bring the warm luminosity in an otherwise solemn and dark ensemble.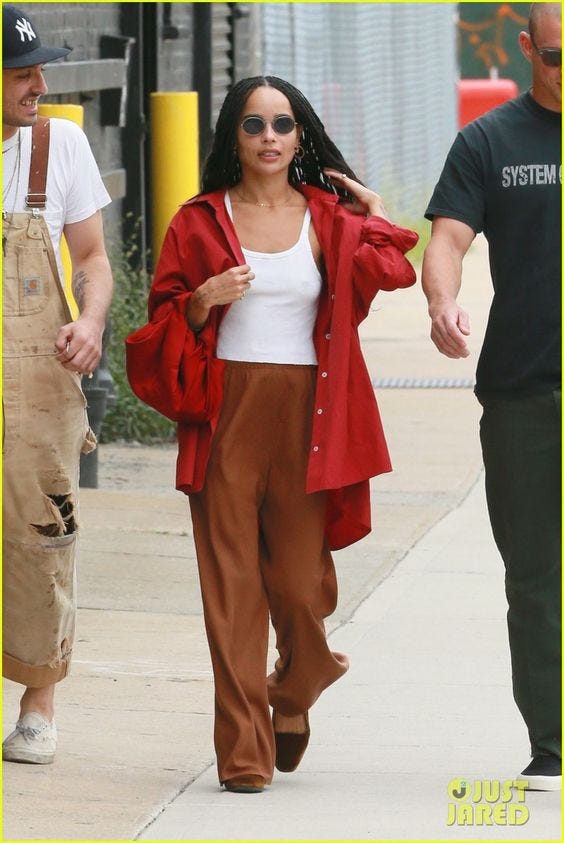 Because I adore the way these trousers ground her tonal looks (also, wearing head-to-toe The Row is not in my budget), I set out to put my own spin on these outfits.
The Molehill is a reader-supported publication.
This post is for paid subscribers