three style lessons from new mexico
what a weekend in the desert taught me about getting dressed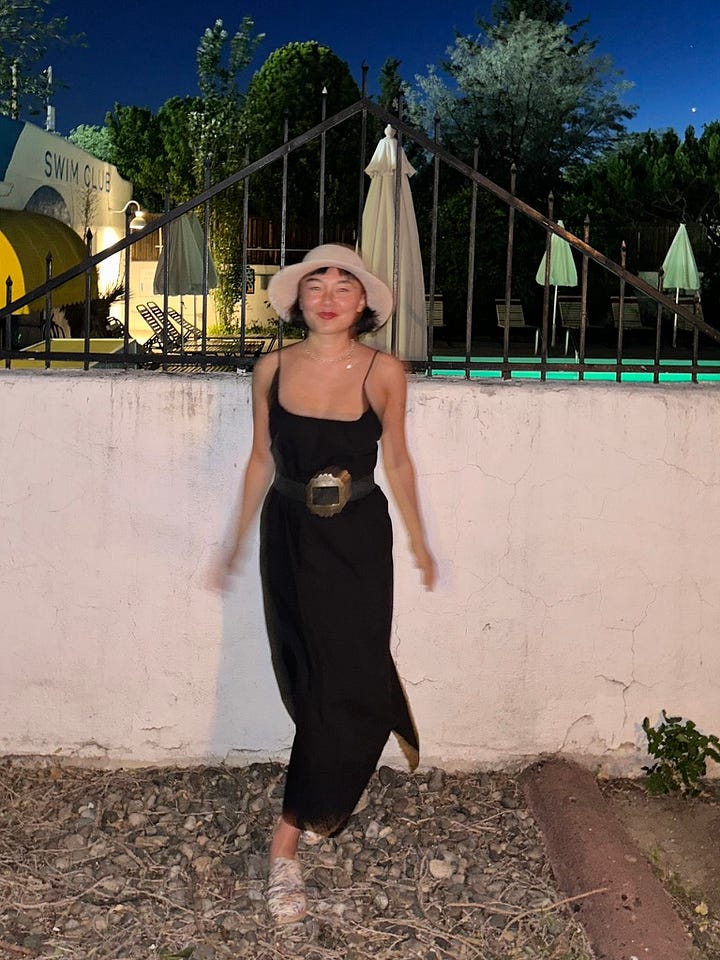 No matter where I am, I love people-watching. Observing what they wear, how they wear it, how they move, how they speak, what they talk about. During my long weekend vacation in New Mexico, Ethaney and I would spend at least 30 minutes every morning and every evening before dinner deliberating on what to wear. Are you going with the white Deiji today? Ok me too. I feel like this outfit needs more, it's too blank. I don't think clogs are good for today. Is a bandana the vibe right now? I think I need to wear color today because I wore black yesterday. When I look back at my camera roll, I can see the progression of my approach to getting dressed. Certain choices became more obvious. I thought about outfits in a way I didn't at home.
That's the thing about being somewhere other than home: you start to adapt, absorb, acclimate into the norms of another place.
Lesson #1: ornaments, not accessories
I'm gonna state the obvious—it's HOT there. Though the dry air makes it more bearable. So in terms of actual fabric, you can't wear much. My clothes were extremely simple: breathable lightweight dresses in cotton and linen, usually in white. When I was packing, I thought about how I needed to bring "accessories" like kerchiefs, belts, and jewelry. But while I was in New Mexico, I realized how much those "accessories" were not really secondary to the outfit in the way the term implies. They were essential. The foundation. They were ornaments, beautiful things meant to be admired for their beauty. I would find myself putting on my anklets and cuffs and headbands before my dresses. The clothes were the real accessory, a blank slate for the ornaments to shine. My favorite piece was my Cascabel necklace, which I'd fidget with because the tiny bells would emit quiet dulcet chimes, a sound bath for the soul.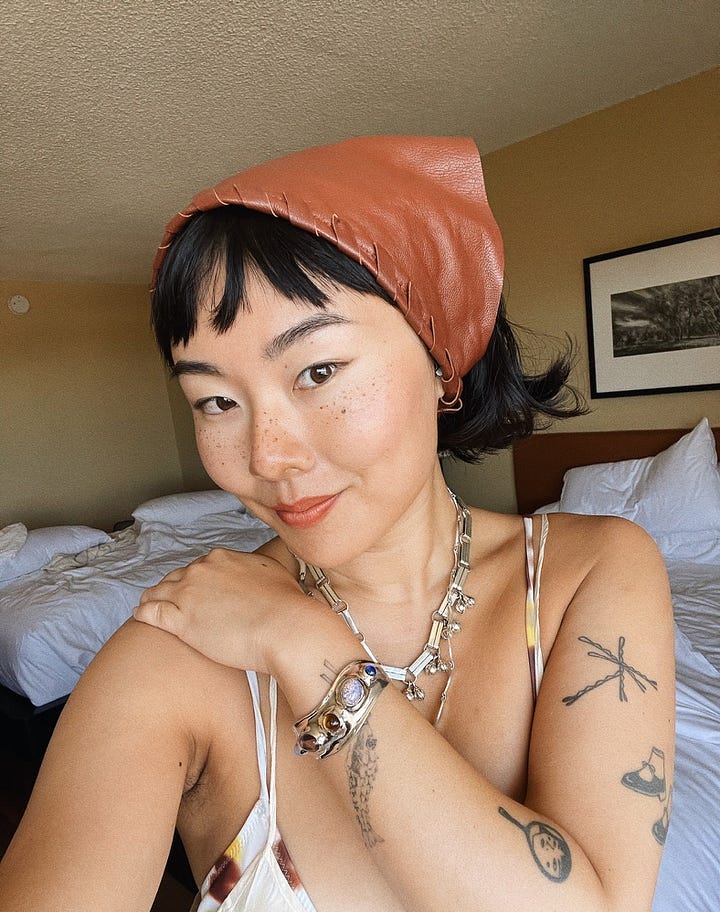 To distinguish the difference between ornaments and accessories, I think it comes down to how you're using the object. It's an ornament when you treat it like a precious bauble that you coo over in your hands. You decorate yourself with it like a Christmas tree. It's an accessory when it's used in a subordinate or supplementary function to your outfit, aiding in the enhancement of something else. Ornaments have more life.
Storytime: we wanted silver and boots but left with neither. Not for lack of trying: we browsed countless markets and thrift stores but nothing really spoke to me deeply enough. Well, there was one gorgeous engraved cuff that settled into my hand with a comforting weight, but it was out of budget. A jeweler named Bennard in Old Town warned us about factory-made pieces, there are "thousands of factories in New Mexico," so each time we passed a store we muttered that it was probably factory-made.
Lesson #2: colors of enchantment
The Molehill is a reader-supported publication. To receive new posts and support my work, consider becoming a free or paid subscriber.
This post is for paid subscribers