Discover more from The Molehill
Thoughtful fashion and culture writing for the secondhand designer enthusiast, from Viv Chen. If you identify as an eBay gremlin, this newsletter is for you.
Over 5,000 subscribers
three palestinian designers who treat fashion as storytelling
olive oil vests and inspection lounge pants
Whimsical prints and illustrated graphics are the heart of Reema Al Banna's brand REEMAMI. The hand-drawn quality of the prints evoke a childlike playfulness, while the architectural silhouettes feel sophisticated.
I'm obsessed with the "A Tin of Olive Oil" collection, which is inspired by Reema's childhood delicacies and memories that tie to her identity. The Olive Oil Vest would be very wearable for my personal style—the print and halter cut balances out the formal menswear look of a button down vest. Perfect for a relaxed jean or billowy silk pants that drag on the floor.
Now the dresses are where I really appreciate the shapes/construction. The overall aesthetic (strategic cutouts, architectural lines) reminds me of J.Kim, who incorporates Uzbek and Korean design motifs throughout her designs.
---
Designer Meera Albaba's namesake brand is all about romance and nostalgia. From the clothes themselves to the styling and photography, there's a soft and wistful expressiveness that comes through.
Scrolling through her website, the Warda Unisex Vest immediately caught my eye for its symmetric embroidered roses down the front. I'd love to style this with a pleated uniform skirt and white button down shirt underneath. A mesh undershirt would also look cool.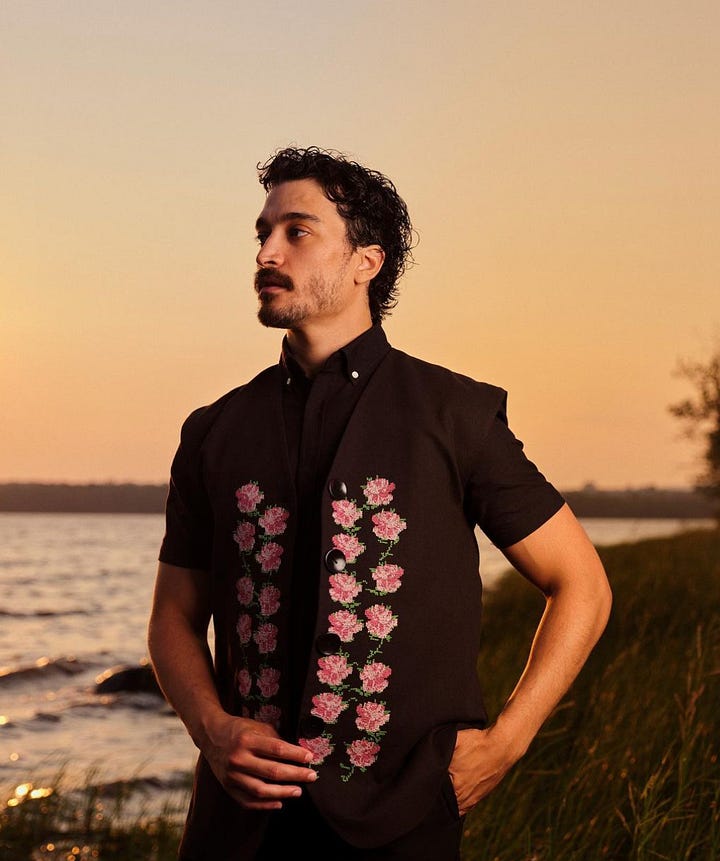 I recommend listening to her episode on the Preserving Palestine Podcast about the little-known difficulties of trying to operate a fashion brand out of Gaza; it is "virtually impossible." Nearly all factories have had to shut down, business owners face "double taxes"(to the Israeli government in addition to their own), importing fabric is very expensive and exports of textile products outside of Palestine must be conducted through Israeli shipping companies. Because of these restrictions, Albaba has produced her collections in Turkey and Jordan.
In the podcast, she also emphasizes that she sees her designs as art pieces—clothes that can be handed down to future generations.
---
Satirical, incisive, campy. Equal parts clothing brand and performance art, Trashy Clothing is a self-proclaimed "anti luxury luxury label from Palestine" by Omar Braika and Shukri Lawrence.
I really enjoyed scrolling through their website and reading the garment names because it offers so much insight into the story they tell through branding. With pieces named "Inspection Lounge Pants" and "Desert Delights Shirt," Trashy Clothing takes jabs at Orientalist tropes and oppressive power structures.
"Much like any other creative pursuit, the Israeli occupation of Palestine makes it near impossible to pursue fashion, meaning young designers are being driven out of the region – Brakia and Lawrence have been forced to operate from Jordan in order to sustain the label." DAZED Digital
This article from W Magazine elaborates on how their collections are informed by their experiences as Palestinians. The "Inspection" garments are double-layered, referring to the harsh inspection checkpoints and surveillance moving in and out of Palestine.
Trashy Clothing's T Shirts Souk is worth a browse—excellent combination of graphics and text that make a good tee.
---
A final note: like many of us I have spent this week listening and learning more about the history of Israel's systemic oppression of Palestinians that has led to the violent atrocities and humanitarian crisis of this moment. As an Asian-American fashion writer, I am always thinking about how clothing tells stories…how it offers perspective into someone's world. Fashion does not exist in a vacuum.
Here are three actions you can take:
If you are a free subscriber and do any of these three things, I will comp you a one week subscription, which includes access to the full archive plus next week's pieces. Just let me know by replying with your email so I can set you up.
Thank you for being a part of the molehill ❤️
The Molehill is a reader-supported publication. If you enjoyed this piece, consider becoming a free or paid subscriber.
yours truly,
viv