Motaz Azaiza is a must follow photojournalist for real-time information, firsthand stories and voices in Gaza. The images of death and destruction are beyond painful to see. But to have the privilege of looking away when Palestinians are living it with no way out…we have to Demand a Ceasefire in Gaza (consolidated action items and resources).
---
Let's talk about leather jacket envy. You know a good one when you see it. And when you see it, you can't look away. I'm envious of the zippy sporty ones donned by Y2K it-girls (surely a Depop grail…), and I'm envious of the scrumptiously patina'd ones worn by old men in the bakery line (so cute in their newsboy caps). Leather jackets feel important. Like a hardcover journal with a cracked spine or a tattoo fading from sun damage, leather jackets should be personal. They should be imperfect, they should tell a story of time that has passed.
I've cycled through my fair share of leather jackets. Well, I should put "leather" in quotes because there have been a few faux leather ones, all of which I've sorely regretted and passed on.
This post is going to cover:
What brands to shop for high-quality leather jackets

Links to jackets across various styles (ex: distressed patinas, oversize menswear, 90s zip-up, cafe racers)

Fit and comfort advice

How to clean vintage leather to get rid of the musty smells and stains

---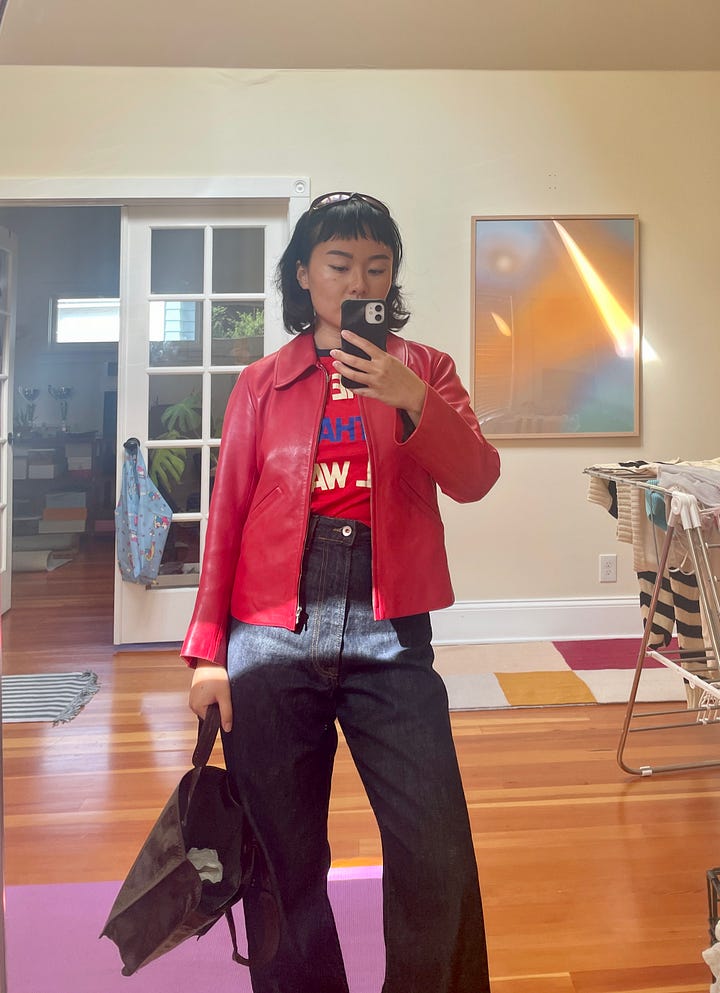 A recent leather jacket I found secondhand after liking it on TRR last year and having it slip away! It fits so well. A little cropped which I prefer for my height, and sleeves hit right at the wrist. This one is from…
This post is for paid subscribers