my southwestern take on a retro red swimsuit
shirley temple maraschino cherry chili pepper summer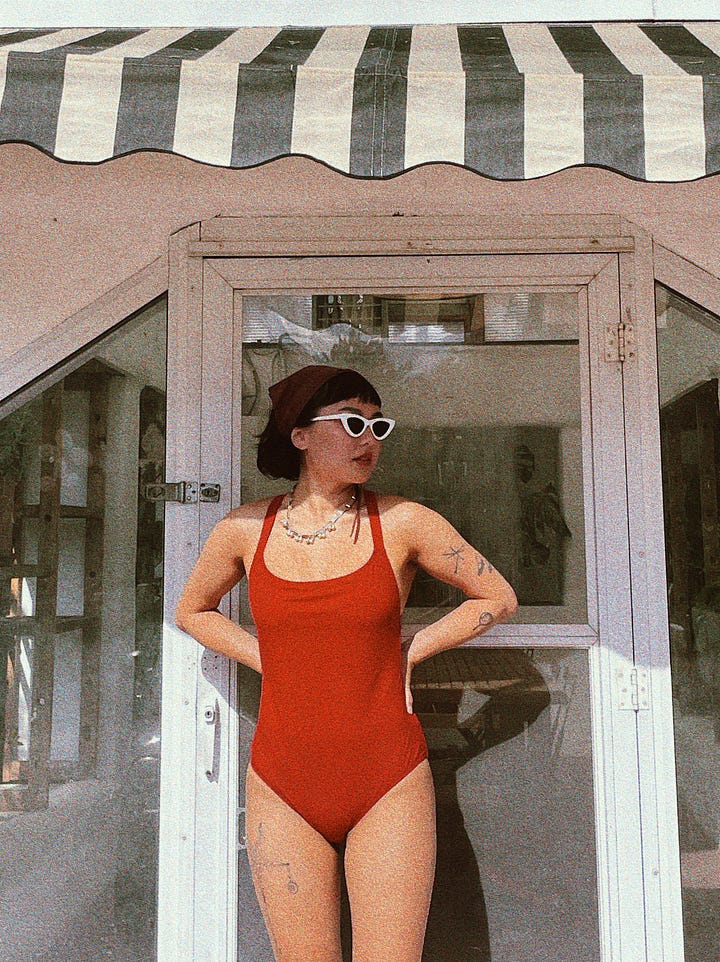 I'm here in the Land of Enchantment, sitting in the hotel bed a little queasy (maybe from a crab soup…) while Ethaney gets me a Jarritos Agua Mineral to help my nausea. We just got back from dinner and the drive was so beautiful. You can really see the stars out here. I just know when I get home, I'll think to myself how much I miss those post-dinner drives down Cerrillos, all the giant pickup trucks with the cute red + green chile NM license plates.
I love it here so far. It feels like a real vacation, flitting around the hotel grounds with a cold beverage in one hand and bag of Flamin' Hot Ruffles in the other. Striking up conversations with White Lotus-coded hotel guests: a couple who never took off their sunglasses and passed a vape to each other as though it were illegal (they love Bode shirts and raw denim), a lively older woman from Tucson here to learn her family history, a heavily tattooed owner of a local vintage shop. Some of my deepest moments of content-ness have been sitting by the pool looking at the fluffy Toy Story clouds and warming my bones in the high desert heat.
Before this trip, I kept telling Ethaney how much I wanted to make sure to pack a good one-piece swimsuit. I mean—I packed a bikini too but what I was really drawn to was a one-piece that evoked a sense of retro glamour and mystique. I think that's hard to achieve with a bikini, which usually makes me feel "modern" in a flat way.
I specifically wanted a red swimsuit to fully lean into the vintage appeal. In my search, I focused on retro-inspired styles with bold red hues and classic aesthetics to evoke the nostalgia of eras like the 1950s and 1960s, when red swimsuits were popularized. And of course, there's the iconic Baywatch swimsuit worn by Pamela Anderson.
My suit is from…
The Molehill is a reader-supported publication. To receive new posts and support my work, consider becoming a free or paid subscriber.
This post is for paid subscribers