Discover more from The Molehill
Thoughtful fashion and culture writing for the secondhand designer enthusiast, from Viv Chen. If you identify as an eBay gremlin, this newsletter is for you.
Over 5,000 subscribers
molly goddard gowns & bok choy bouquets: catching up with PR dynamo Adrienne Han
we cover career moves, personal style, and thoughts on SF fashion
Adrienne and I met in the Señor Sisig line on Valencia St. in San Francisco.
It was like looking into a mirror of sorts: we are about the same height, with short bobs and dark eyebrows. We are both Chinese-American and developed our sense of style during the 2010s fashion blog era.
Adrienne recently founded her own PR firm in the food & bev space: Big Dopamine Energy PR. She's helping emerging brands like Wildwonder and Purity Wine to win consumer hearts on their journey from local legend to household name. You can follow her work and ootds on IG @adriennehannn or talk brand marketing with her at adrienne@bigdopamine.com.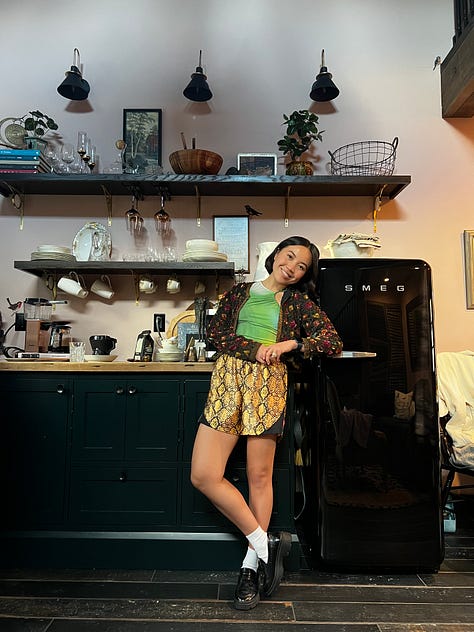 I asked about Adrienne about her career moves, personal style and thoughts on SF fashion.
---
You have such a unique personal style, sporty yet sophisticated. How would you describe it?
Functional frivolity! It's my personal yin/yang when it comes to dressing. I think archetype tension is what makes an outfit interesting. I.e. if you mix coastal cowgirl ease with Issey Miyake precision, it's going to be a fascinating look.
On any given day, my hands give great gatsby and my feet give marathon runner. Over the years, I've collected my share of antique fine jewelry (downtown Petaluma, CA is a great gateway) and I wear it liberally. Art deco rings with thick bands in 14K gold? Be still my heart. For shoes, I'm usually in Hoka Mafate Speed 2s in a monochromatic colorway. It's my holy grail sneaker silhouette. Slim fitting on the foot and ankle with a signature plush Hoka sole, and minimally branded.
The rest of the outfit falls somewhere within that spectrum of function and frivolity. That might look like track pants and a knit bolero to play well with SF's perennial fog and steep hills. Or, a frilly miniskort (always a skort) with a technical fabric top complete with thumbholes, so I manspread like a lady while keeping my hands protected from UV rays. Tension. Intrigue!
---
You've worked in the SF marketing/startup world. The City (especially the tech scene) is notorious for its puffer jackets and general disinterest in fashion. What has been your experience balancing your personal style in this environment?
LOL ain't that the truth. In some circles, legend has it that the more modular your wardrobe, the higher your IQ. Personally, I love when folks are not shy about having a big brain and a wondrous wardrobe.
Style's a great conduit for sharing a personal narrative. With what we wear, we can spotlight some piece of ourselves – how we're feeling, where we're going, or what we value – with anyone within eyeshot, all without uttering a word. I never pass up an opportunity to share a story, whether it be visual or verbal.
---
What led you to founding your own PR firm? Was this something you always wanted to do?
I've spent 10 years building and bolstering brands, most recently as the Head of Marketing at an alt-protein company. A lot of the path to getting there was saying yes to a broader and broader marketing scope. After time spent with the various faces of marketing: performance and brand, B2B and B2C, online and offline…you find pockets where you are a cut above; the parts of the job that you both most look forward to and outperform the market in. After 2 exits and 1 billion earned media impressions, I know my time is best spent helping challenger brands build public perception that befits their premium product.
With Big Dopamine Energy PR, I'm working with seed-series B companies to storytell in ways that drive sales velocity and help brands secure their next round of funding.
Not to mention, the public relations industry is a paltry ~15% BIPOC, and it's rewarding to be able to play a role in diversifying the profession as well.
P.S. I'm always game to geek out on marketing + comms: adrienne@bigdopamine.com
---
Has working for yourself changed the way you get dressed? 
It has. I used to go into the office every day, which meant a full head-to-toe outfit narrative. Now, most of my meetings are virtual, so I'm interacting with brands via my lil pixel rectangle. Everything that's visible within my rectangle, I style. This includes not only what I'm wearing from the waist up, but also the art and decor in the background. It's fun to play with 'set' design every few weeks.
---
Let's talk food marketing trends. What's a vibe and what's an ick?
A VIBE: Companies that are making nutrient dense foods more delicious. Healthy food and mind-blowingly delicious food have very little in common in the American diet. I appreciate brands that are bridging the chasm, without blanding things down or shrinking portion sizes. Heyday Canning is a company that's nailed it. I've never craved a can of beans until I tried their kimchi sesame navy beans. Now, I happily eat spoonfuls of canned beans, because they're wildly delicious and just happen to be nutritious.
AN ICK: "-free" everything. I'm all for products that serve consumers with ingredient allergies and sensitivities, but it's a real doozy seeing the ingredient/macronutrient smear campaigns that are used to market new food products (often featuring an alternative ingredient with less clinical research history). If I'm eating a cookie, I'd much rather have it with cane sugar, instead of a 'sugar-free' cocktail of stevia and monkfruit. Fat-free, sugar-free, gluten-free, carb-free…this messaging messes with people's relationship with entire subcategories of food. I'm fundamentally against using fear as a way to drive demand. 
You could say that I prefer the marketing carrot (aspiration) to the stick (fear).
---
I loved your red and pink Molly Goddard wedding dress. An unconventional bridal look is so chic to me. How did you decide on that dress? 
Tbh my marketing brain never shuts off, so I'm constantly questioning how conventions come to be. With wedding planning, I spent more time researching the significance of various wedding traditions than on the planning itself.
While going down the rabbit hole of bridal gown history, I learned the modern white gown came to be after Queen Victoria and Prince Albert got hitched in 1840 and had their wedding photos circulated via newspaper. Since English blue blood doesn't hold significance to me, I opted for a different color.
I paid homage to my Eastern roots, and chose what's considered an auspicious color in China: red. I went with a wedding dress that felt like an extension of my personal cultural experience. A kid born in China and raised in the U.S. = an eastern colorway and a western designer = a Molly Goddard silk taffeta dress in a ruby red and pink gingham.
You didn't ask, but my bridal bouquet also featured bok choy and chives, our wedding stationery included a custom illustration by Angelina Sorokin that folded in Chinese culture easter eggs, and I wore a PH5 dress (had to rep an Asian American designer) for our wedding dinner.
Traditions are best enjoyed when they're a choice and not a prescription!
---
What is one item on your fall wishlist? 
Simone Rocha criss-cross trek ballerinas. Drool.
---
Thank you for chatting with me today, Adrienne!
You can follow her on IG @adriennehannn or say hi: adrienne@bigdopamine.com.
Upgrade your subscription to get the full scoop on more guest interviews like this! 🍦