Discover more from The Molehill
Thoughtful fashion and culture writing for the secondhand designer enthusiast, from Viv Chen. If you identify as an eBay gremlin, this newsletter is for you.
Over 5,000 subscribers
me and my bob: a complicated relationship
the evolution of my haircuts from 2018 to present
There are events in that separate your life into before and after. Getting my hair cut into a bob was one them. There was life before my bob, young adult years where I cycled between medium longish hair and medium shortish hair, sometimes trying a curtain(ish) bang but never a haircut that I felt really said something about me.
And there is life now with my bob, which I've grown deeply attached to—maybe overly so. Who am I without my bob?
Let's take a look into my hair archives.
---
Chapter 1: Basic Balayage
We will start in 2018, my first balayage appointment. The first time I really spent a big chunk of money on hair. I went a salon in San Francisco, and my main memory was seeing Doug Emhoff standing around in Converse holding someone's small golden purse (I was later informed that this was Kamala Harris's go-to salon and she was currently upstairs in a secret room getting her hair done).
Now, I look at old photos from this time and don't know who she is.
---
Chapter 2: Boredom
During peak pandemic my hair was the longest it had ever been. I was living out the tail end of my balayage era. It grew long and brassy from a horrible DIY bleach and highlight job, but something compelled me to keep growing it. A part of me reveled in how grotesque it looked and felt.
I loved hating it. I would hold clumps of hair under the sunlight, a thick mass of brittle orange straw, so the lighter nodes of the split ends would glint in the sunlight. I would gather it into a ponytail and run my palm against the bristle of the crispy fried ends. If I closed my eyes it felt convincingly like a prickly chinchilla…I was so bored.
---
Chapter 3: Starter Bob
In 2021 I hit a breaking point and decided to make an appointment to get a dramatic haircut, a full reset. For weeks, I collected inspo pics on Instagram and Pinterest of short bobs with bangs, but wasn't sure I could actually commit to the cut. The haircut still felt so bold for me…it still felt imaginary, even when I was in the chair watching the razor slice away clumps of hair.
I was happy with the end result. The bob hit around my chin, and the bangs blended into the side of my hair. It did take some getting used to, but I liked seeing myself in a new way. For the next few months, I got trims here and there and bought a razor to cut my own bangs. I was cruising with this haircut.
---
Chapter 4: Final Form Bob
Jayne Matthews is somewhat of a hair legend. I'd followed Edo Salon on IG for a few years, and while the San Francisco shag never called to me, I was mesmerized by the dramatic hair before and after transformations documented on social media. Regardless of the cut, the clients all looked so cool and artsy and chic and interesting in their after pics. People I would definitely notice at a coffee shop and stare while pretending not to stare. Jayne seemed to know exactly how to give someone the cut they needed for that elusive it factor. So when we connected on Instagram through mutual Bay Area fashion people, I was thrilled to see what Jayne would do with my hair. I told her as long as it's a short bob, I'm not particular about what it looks like. I trusted her vision implicitly.
And she delivered.
My hair was still a bob but looked and felt completely different. The vibe shifted. She brought the ends up higher on my face, and cut my bangs with a much more aggressive angular silhouette. I couldn't help but smile when I saw the end result. I knew in my heart I loved it.
Things I love about my bob.
It's the best fashion accessory. Outfits that would be just okay before, now read more creative and startling because my hair always signals that there is a point of view going on.

I like feeling like a cartoon sometimes. A haircut that is a distinct shape. I am easy to draw, easy to recognize, easy to remember.

There is a very specific flavor of femininity my bob taps into. It feels like me.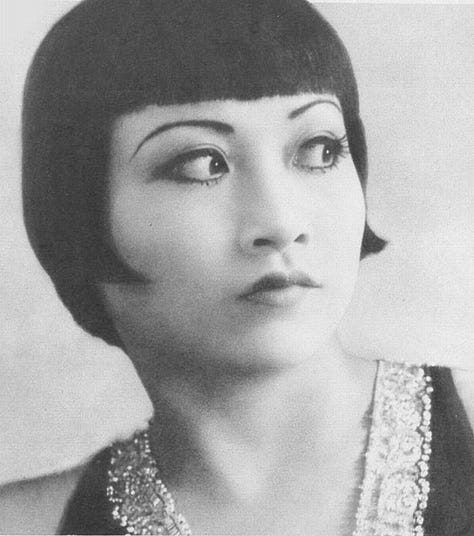 A some point in 2022 I also started getting perms, and that was also a game changer in that my hair had a lot of movement and body without needing to rely so heavily on styling products. A short wavy bob with blunt bangs, I want to stay like this forever.
---
Chapter 5: My Sisyphean Task
When you love seeing yourself in a certain way, it's difficult to accept that nothing about your face or body or hair is constant. Hair wants to grow.
My hair grows fast. I get anxious when my bob starts betraying its shape. The hair at the nape of my neck gets long and heavy, it drags down the perkiness of the bob, the bangs start closing in on the crisp 90 degree angles at my temples. It loses definition. Don't do this to me!
I am a play doh doll screaming in the mirror, hands on my cheeks, as the strands of hair ooze out of my scalp.
Every 1-2 weeks I'll grab a razor, comb and wastebin and sit in front of my mirror. Let us begin. Clipping, pruning, shearing. Hacking away the weeds to find my way back to the perfect topiary I know is in there somewhere.
When I finally see her, I exhale with relief— there she is.
The Molehill is a reader-supported publication. To receive new posts and support my work, consider becoming a free or paid subscriber.