how to style lounge pants for a nice dinner
outfit formula breakdown, and letting go of the pressure to have summer plans
It's a long weekend and I've been mostly sleeping, reading and cooking. Luteal phase activities. Decompressing from a stressful week.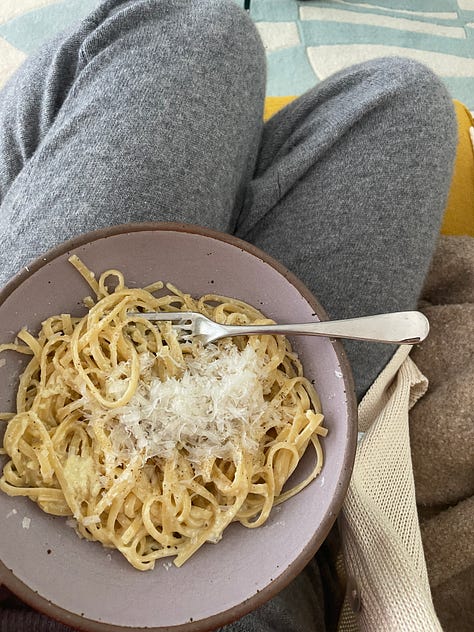 This time of year I often feel self conscious when people at work ask out of office-script politeness—do you have any special summer plans? Are you traveling anywhere? Does your family go anywhere for the summer? Sometimes I have the kind of answer they're expecting to hear but right now I don't. I shrug and deflect. Nothing really! Just enjoying the sun when we finally get some in the Bay. What about you?
There's a lot of pressure for summer to be fun. Sensational. A season you're not supposed to waste. I find myself worrying about not making enough plans, but right now I don't have the mental bandwidth to focus on that. I haven't been feeling fun. I'm feeling somber, reflective, and slow. It's ok (more than ok!) if you don't have a plane ticket booked anywhere. It's ok if you're not going to Italy, if you're not going to Tahoe or Yuba River or Sea Ranch or Ojai or Yosemite, if you weren't invited to any weddings or parties. It's enough to stay home and take care of yourself in whatever ways you need.
The one time I really went out this weekend was a girls' dinner with Ethaney, at a cozy Italian restaurant with reliably delicious pasta and people-watching. You always get a nice sampling of Oakland pixies and mullets in the wild. I roused from a stale afternoon nap to get ready for dinner and decided I would style loungewear in an elevated way. I ended up loving the result: sophistication grounded in ease. It felt effortless.
Based on my styling thought process, I would distill this look into the following outfit formula:
This post is for paid subscribers