how i'm dressing this summer
Daylight Savings gives me hope that we are getting closer to summer. The dark and cold of winter has always filled me with dread. I feel unmotivated during the day and my hackles go up at sunset, nervous for no particular reason that there might be something moving in the shadows. A leggy spider crawled out of my toothbrush cup last night as I was reaching for my gum irrigation syringe. I worried that it laid eggs in my toothbrush so I threw it out and unwrapped a new one.
The Molehill is a reader-supported publication. To receive new posts and support my work, consider becoming a free or paid subscriber.
I'm dreaming of summer and the escapism it represents. I looked through photos from last summer to remind myself what I did. I remember it as a happy time…lots of pictures with fizzy wine and bare shoulders. I wore pinafore dresses, went swimming, ate early girl tomatoes, got my first tattoos, went on drives with my lychee ripple, windows rolled down. Forever chasing that feeling. When it hits 70 degrees I feel like life will start again.
This summer, I want to wear sheer clothes a lá miu miu FW23. I know. It's a fall winter collection. But I can easily see this translating into a summer appropriate wardrobe of sheer slip dresses over bright, obvious underwear.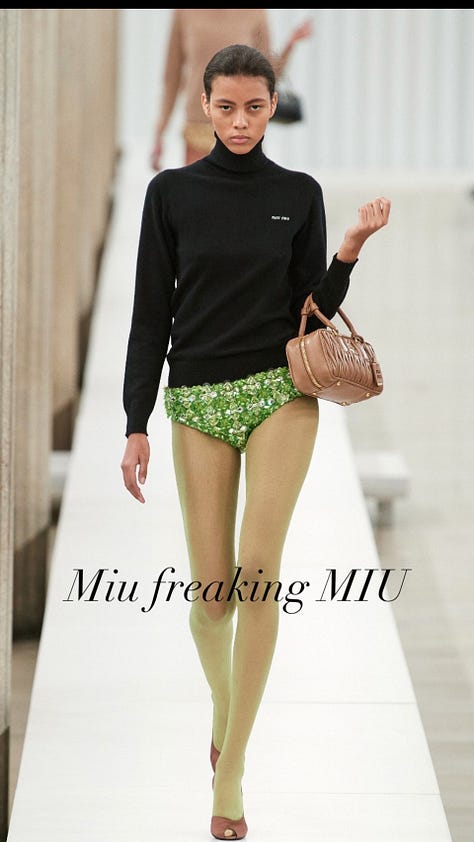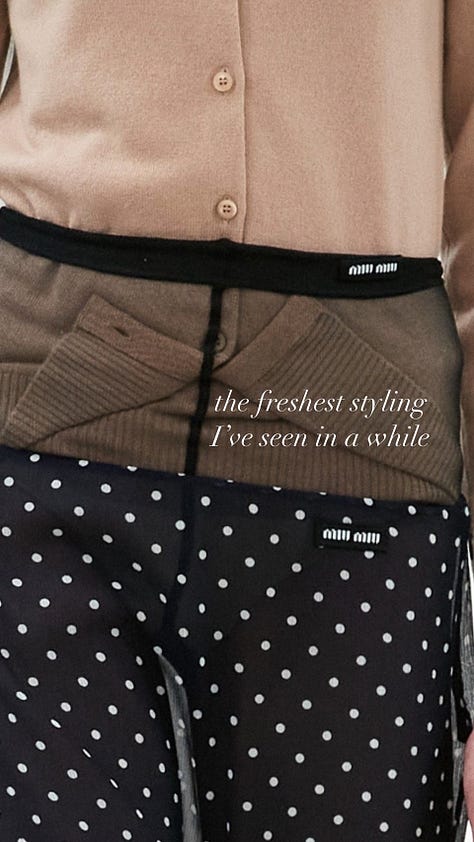 I want to wear tube tops. The Orseund Iris one I've been styling has felt so refreshing with a pair of relaxed jeans. The fabric has a nice level of compression, and I'm dreaming of finding the red/pink one secondhand (it's sold out from last year). Orseund Iris's best pieces have a touch of boob humor and this is no exception. A tube top offers a freeing sense of bareness. The nostalgia of a middle school dress code violation.
TikTok put me on the coastal cowgirl aesthetic—I like that it blends elements of aesthetics I already incorporate in outfits. I think of summer on a ranch. A artist residency at Georgia O'Keefe's house. Collecting shells by the beach and laying your cotton dress out to dry on the rocks. Cooking barefoot. Glastonbury-ish boots. A ultra flat brim cowgirl hat hiding your eyes.
This post is for paid subscribers