how I got over earring fomo, as someone who doesn't have pierced ears
#hemgems and two other style hacks
It may come as a surprise that I don't have pierced ears. I didn't get them pierced as a baby, I was too chicken to get them pierced at Claire's as a child, and I am too infection-phobic to get them pierced now as an adult. I get occasional swimmer's ear from the pool and used to get earlobe eczema flare ups, so the idea of managing a ear piercing infection simply outweighs the pros for me. Sometimes I do feel tempted to just take the plunge and get them pierced, when I see someone with a really fabulous pair of earrings. But I have friends with pierced ears who tell me theirs closed up and they hardly wear earrings anymore. And I feel better about my decision. Maybe I will one day, but for now I'm not feeling the urgency.
This limitation used to be a source of frustration, but it's more recently become a spark for creative inspiration. There are so many ways to wear, style, and manipulate earrings—just not on my earlobes.
After spending a few hours of trial and error in my closet, I landed on three earring style hacks that are equally charming and wearable. Subtle ways to enhance an outfit. I hope for those with unpierced ears, this gives you the freedom to shop earrings and incorporate them into your personal style. And if you have pierced ears, this is just another way to get more wear out of your jewelry collection.
I'm using these push back stud earrings, but most other earrings with some sort of post will work.
1. an earring becomes a #hemgem
This was inspired by my leg tattoo, which has crystal gems that peek out from a short hem. I pinned these earrings on the hem of a tennis miniskirt above my tattoo and love the effect. Because the skirt is so preppy, the earrings turn it into something more whimsical, more embellished. Think…Chopova Lowena-lite. It's an easy way to bring tension and movement into an outfit as well. When I walk, the gems will sway a bit with my stride and I think it looks really dynamic. Given the green and pink colors, I had to style with my new Sandy Salomons. I feel good in this outfit and could see myself wearing variations of it throughout summer.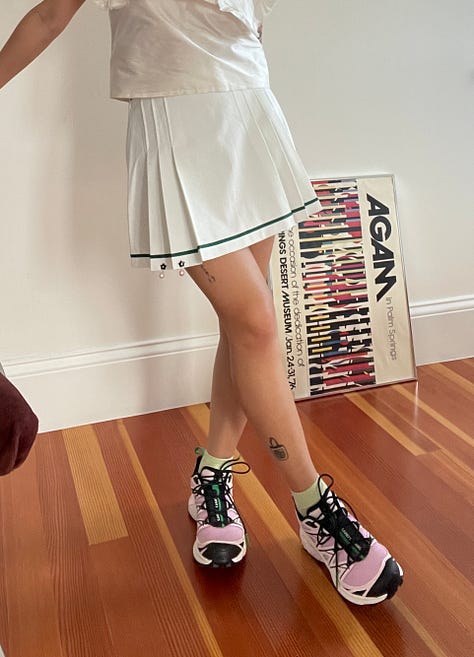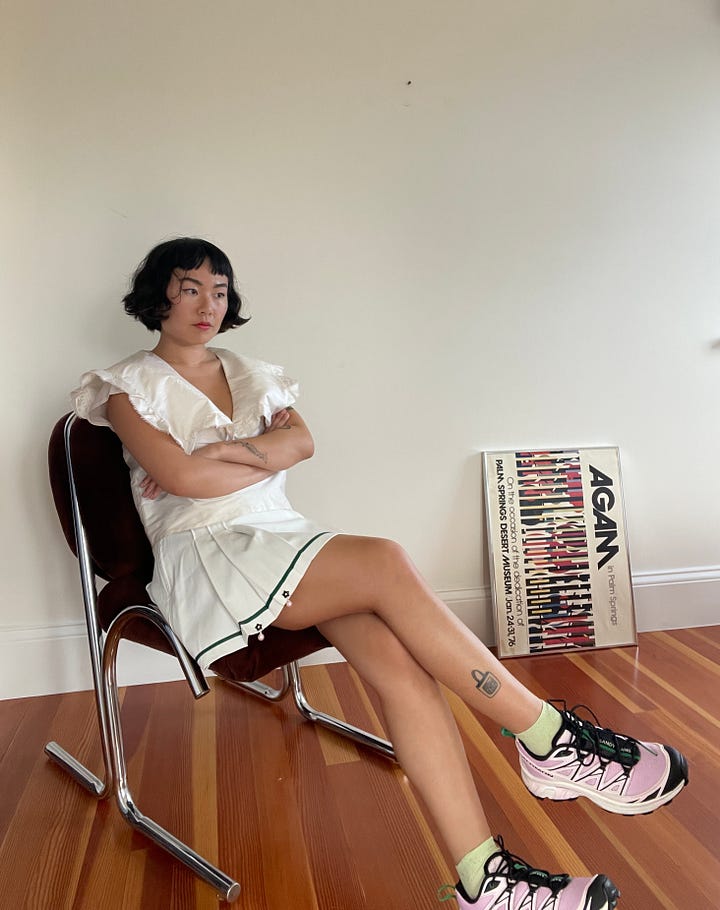 ---
This post is for paid subscribers