hannah montana, rick owens, and billy the kid walk into a bar
a sleepy sunday night in santa fe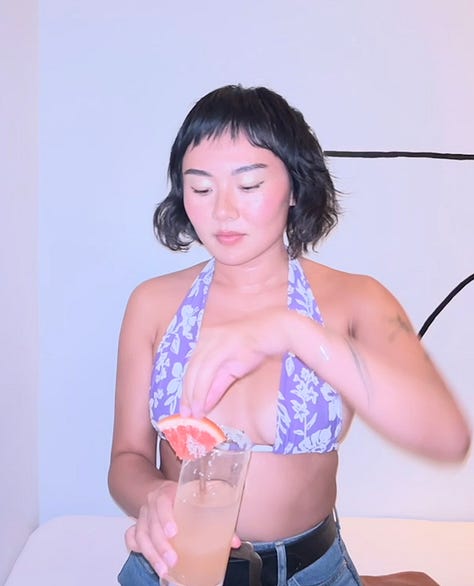 I have always admired people who pick one emoji that is theirs and stick with it. They make it known. A drooping rose in their Instagram bio, a trio of blue butterflies at the end of a heartfelt text. Committing to one visual avatar has eluded me. I like too many but don't like a single one enough.
---
When you're away from home you see different things. I know that sounds obvious but it's just true.
I am here right now. Here and home could not look more different through my eyes. More than the landscape, I interpret places through colors. Blues here are serene cornflower and bold turquoise, blues at home are moody ultramarine and steely slate. Reds here are dry air nosebleeds and stewy pools of seed-flecked chile, reds at home are balloon-y tomatoes and glowing red tail lights on the 880.
The first night of a trip is always brimming with anticipation. We decided to go to the hotel bar for live music. We did our makeup in twin sinks and steamy mirrors and completed rounds of serious deliberation on What To Wear. That night, I went full country pop-star: Hannah Montana at the Nickelodeon Kids' Choice Awards. Glittery mint eyeshadow, more contour than I ever use back home, a floral halter bikini top, a pair of ridiculously long flare jeans, a belt with a huge square buckle. And my 4'" Miu Miu heels. Here, it makes sense in a way it wouldn't back home.
We made the two minute walk from our room to the bar, crunching on the gravel parking lot with belabored plods, as if we were on mile 26 of a marathon. The marquee sign said Westin?Weston? something something was playing. It didn't matter if we were into the music, but we were willing to be into the performance, which is what made it fun. The hotel bar was dim and cozy, with low ceilings that remind you of your smallness relative to the desert out there. It smelled like off-brand gasoline mixed with synthetic sandalwood from some kind of "elixir" product (approved by Goop but not the FDA). I loved it.
---
They called themselves the cosmic trio.
This post is for paid subscribers