four outfits i wore this week | dark wash jeans, cloud soft knits, 90s strappy dresses
+ food that got me excited about cooking again
Happy Friday! Today I'm breaking down four outfits I wore this week. Lots of transitional dressing on my mind even though it's still quite hot in the Bay Area. I have also gotten a surge of cooking inspo again, so there's two easy recipes at the end of the newsletter. Suffice it to say sweet potato is my current hyperfixation meal. 🍠
---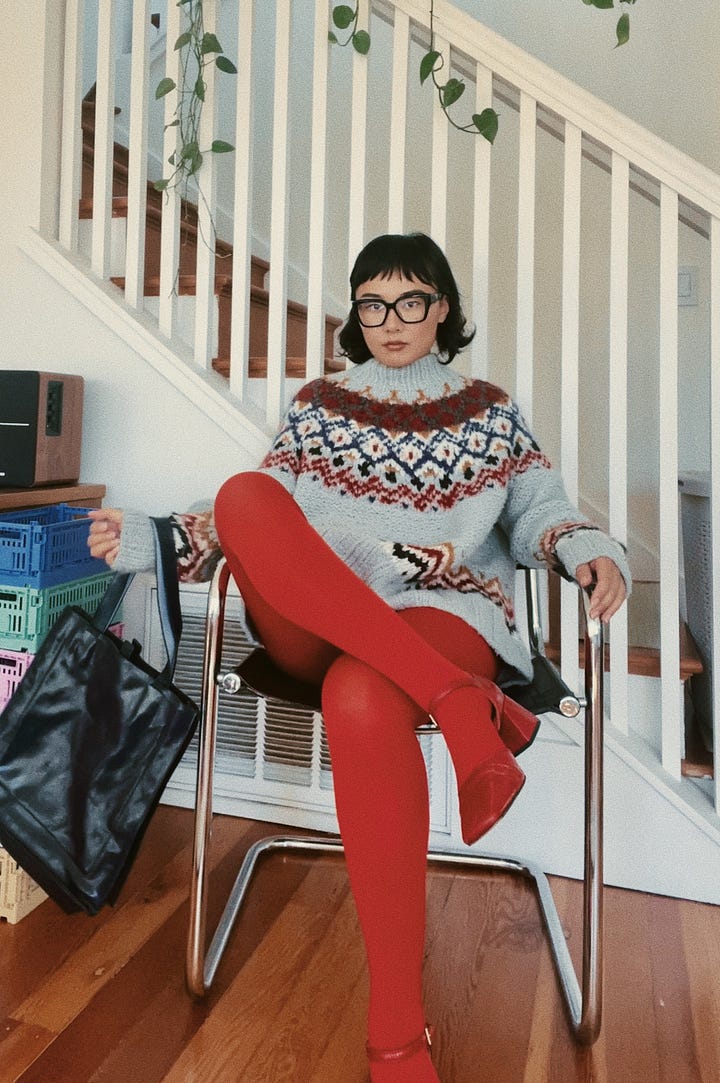 Look 1: Copenhagen Magazine Editor
Every winter I am excited to wear my Rachel Comey Ballo pullover (old season, I recommend lurking on Noihsaf's robust Rachel Comey listings to find one). This was one of the best things I've ever bought from TRR. $75! A cloud of a sweater if there ever was one. Since it is long and goes past my butt, I wanted to play around with the pantsless look a la Miu Miu…these red tights are Vivienne Westwood (TRR clearance) and the shoes are old season red Suzanne Rae mary janes. Glasses are an underrated part of an outfit. I felt the outfit needed more lines, more structure somewhere. So I put these very heavy black angular Prada frames on and they did the trick. When you want to look like an editor, the key elements are: dorky glasses + heels + a glossy tote bag. Coffee and the new Melissa Broder paperback in your hands.
Look 2: Little Prep on the Prairie
The Molehill is a reader-supported publication. To receive new posts and support my work, consider becoming a free or paid subscriber.
This post is for paid subscribers