everything i wore for 72 hours in LA
Day 1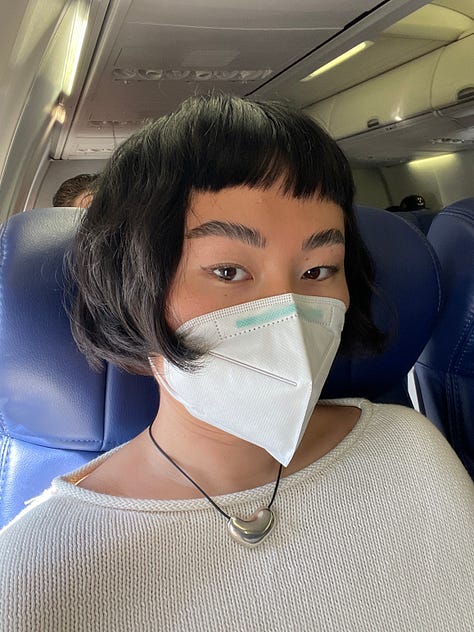 Airport: Comfort first. Tube top, cotton skirt, cotton sweater, socks and velcro sneakers. Agmes bean necklace. I got a vanilla yogurt cause I didn't have time to eat before getting here. The 45 minute flight feels like 3 hours. Ethaney and I look like turtles walking around the airport in our travel packs.
Lunch: It's 88 degrees! We check in early at the hotel. I learned that hotels don't offer you rooms on the higher floors unless you ask, which I never thought to do until this time. We get the third floor and drop our heavy backpacks off. Sweater comes off too. I swap the tote bag for my pink Miu Miu shoulder bag. I ordered a strawberry oat matcha because it looked pretty, but I liked Ethaney's drink more lol (a vanilla limeade). We ate pancakes and quiche.
Pool: I packed two suits for the trip, and reach for my Heavy Manners set with a pair of denim shorts over. The pool is busy and festive. I order a tequila based cocktail, it's just ok. The water feels great, this is my favorite type of weather.
Mohawk General Store: Obligatory browse. A pair of cargo pants caught my eye. Overheard Tessa Thompson saying "I don't feel like trying things on so I'm just gonna buy everything."
Dinner: This is my favorite part of a vacation day. Showering after spending the afternoon at the pool, re-doing makeup on a clean face while playing Lana Del Rey, and picking out a dinner outfit. I go with an easy Sandy Liang cotton dress and mary janes. I switch back to the tote. We do birthday dinner for my sister at a Korean fusion/deli inspired spot in a brick Arts District building and it was very good. The fried chicken wings and vinegary pea shoots paired so well together.
Day 2
This post is for paid subscribers